Aeolus Stainless Steel Round Corner Modular Cage-Two-Tier (1L + 2M) with drainage system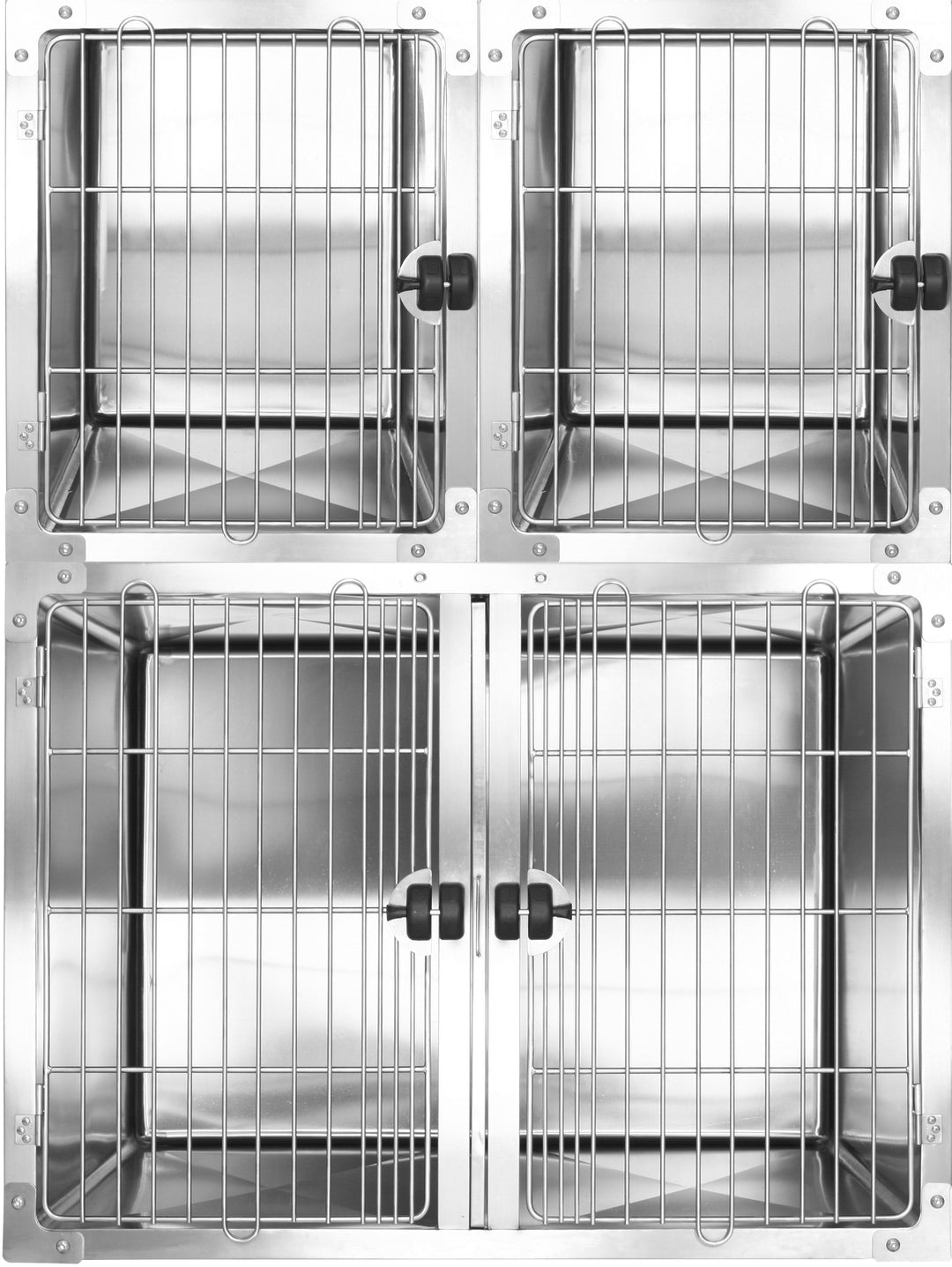 Description:
Top Class SUS304 Stainless Steel material ensures an ultra long service life over 20 years.

Round Cornered solid walls leave no blind corner for hygiene purpose, thus, easy to sterilize and maintain.

One hand operating door locking system makes it easy to carry an animal out and lock the door at the same time.

Strong front door made from 8mm and 6mm stainless steel rods make sure the pet stays relieved, with other options like a transparent door for therapy purposes too.

Standard Modular cage bank is made of -

2x Medium cages ideal for small and medium sized dogs.

1x Large cage with cage divides ideal for two medium sized breeds or with the divider pulled out for one large dog breed.
 Features:
Standard Modular cage bank can be stacked in 2x medium & 1x large cage

Comes with Round Corners leaves no spaces

Nice polishing and Finishing

Removable door hinge

Magnetic Latch

Wheels Optional                 
 Specifications:                                     
 48"L x 28"W x 69"H                               
 1L + 2M Configuration
Shipping Policy
At ABK Grooming, we recognize the significance of delivering your products on schedule and in prime condition. Because of this, we take extra care to pack your orders with the utmost care, and we've teamed up with some of the most reputable courier partners to deliver your goods without a delay.
Shipping methods we offer?
There are two shipping options available - Cash on Delivery and Prepaid.

Customers get to choose cash on delivery starting with their second order and for orders that are under Rs 10,000. We retain the authority to restrict this shipping option on a case-by-case basis if a Cash on Delivery order is declined at the time of delivery.
What shipping charges can I expect to incur?
For any prepaid orders shipping is free!

We charge 150 COD charges for any Cash on Delivery orders.
What locations do you ship to?
Since there are pet lovers everywhere we deliver to almost all the locations in India. Please check the shipping TAT for your location.
What is the expected delivery time?
We understand that there is no limit to the excitement of receiving love for your four-legged buddy. That's why at ABK Grooming, we do our best to make sure you receive your delivery ASAP. Orders are usually dispatched within 24 hrs Monday to Saturday. 

Our courier partners may experience delays in delivery beyond our control, so please allow a buffer. However, ABK Grooming has got you covered and will assist you in tracking the order and keep you informed.
Which courier partners will be delivering my order?
We collaborate with a variety of dependable and reputable courier providers such as DTDC, Xpressbees, Gati KWE, VXpress, Blue Dart, Delhivery, Track on, Amazon shipping, Shiprocket, EcomExpress, Spot on, Xpressbees, Shree Maruti. Other courier partners might be employed in some situations when there may be a remote location, however, this will vary from case to case.>

For all orders, you will receive a tracking number for ease of tracking and you will also receive updates via email and/or text. 
How do I cancel or change my order?
If you need help cancelling your order, please email us at support@abkgrooming.com or send us a WhatsApp at +91 95119 60778 with your order number. If we have already processed your order, we may not be able to cancel it.

Once your order has been placed, if you need to modify your shipping address, please get in touch with us right once. We won't be able to amend the mailing address if the order has already been filled.
What should I do in case of any order delivery-related issues?
If you have any delivery dispute, please email us at support@abkgrooming.com or send us a WhatsApp at +91 95119 60778 with your order number and our customer experience team would be more than happy to assist. 
(POLICY EFFECTIVE DATE: 23-11-2022)